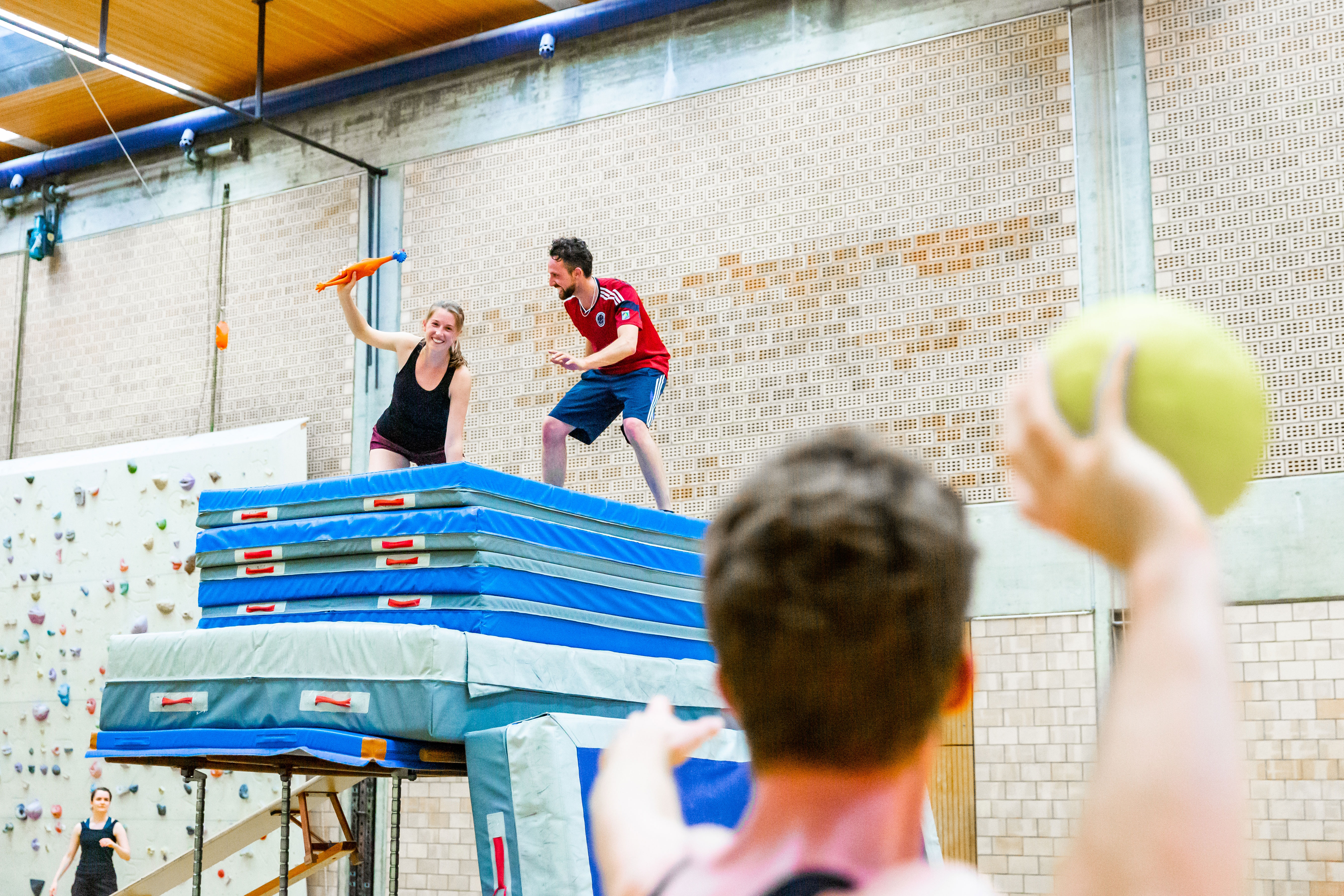 Welcome to the ASVZ
ASVZ members' manual
The ASVZ offers all university members an attractive and varied sports program, which includes plenty of opportunities to discover new activities but also old favorites. The ASVZ is all about people, the joy of exercise, fitness, work/study-life balance and improving the quality of life.
Please note the current measures due to Covid-19.
The ASVZ sports program is available exclusively to university students, staff and alumni.

Membership always lasts for one year.

The digital ASVZ Card for students is valid as long as the enrolment at the university or a SWITCH account is valid.

All other members will find their digital ASVZ Card in the ASVZ app after payment of their annual fee.
More than 120 sports – for brain, body, and soul. At the ASVZ you are bound to find an activity that suits you. By the way: Besides a program including more than 120 sports, we also offer counseling services in various areas. You can look up our counseling services by going to «Sportangebot» and clicking on «Beratung».
Go to the sports program ...
Sports associations and the Sports Department of the City of Zurich
There are 23 sports associations affiliated with the ASVZ which cover high-performance and competitive sports in particular. If you would like to practice your sport on a more ambitious level or if the ASVZ tournaments are not performance-oriented enough for you, then you have the possibility of joining one of these sports associations.
Go to sports associations ...
The website of the Sports Department of the City of Zurich features a list of more than 500 sports associations, sport schools and public gym halls.
Go to the Sports Department of the City of Zurich ...
Fitness 
At the Sport Centers Polyterrasse, Hönggerberg, Irchel, Fluntern, and Winterthur as well as the strength and cardio center in Wädenswil, you have access to various training areas with weight and cardio training equipment as well as functional zones for individual training. Please note:
You can find an overview of our fitness centers on the
ASVZ website at asvz.ch/fitness
Please check the information and opening times for each Sport Center.
Time slots for individual fitness training are offered for which you must register online in advance.
Classes
Classes are included in the annual fee and generally take place at the same time every week (subject to change during holidays). Please note:
New participants can join in anytime. Regular participation is not required.
Classes can take the form of instructed group exercises, games or free play (without an instructor).
Prior online registration in the sport schedule on the ASVZ website or ASVZ app is required for all classes.
Class cancellations are announced in the sport schedule.
Free sports activities
The free sports activities give you the opportunity to use our free infrastructure according to your needs. Whether you want to use our sports halls or our dressing rooms and showers. Please note:
The schedules on the respective facility pages of the website show you the availability of the halls and rooms.
Prior online registration is required.
Further activities
Some activities are limited in time and have participation fees. These include courses, camps, workshops, meetups as well as events/tournaments. Please note:
You must always sign up at an ASVZ desk or online in order to take part in these activities.
Some activities, such as mountain sports, climbing, tennis, and sailing, are very popular and are booked up quickly. To increase your chances of getting a spot, find out about the booking details ahead of time and be ready when booking opens.
Top-Events
The highlights of the ASVZ calendar are the following big annual events, which grow more popular year by year. These events require registration.
Tip:
The UNI–POLY rowing regatta is particularly interesting to watch, as it allows a more close-up experience than most other regattas. The competing teams are selected by the universities.
The sports activities take place at the ASVZ Sport Centers Polyterrasse, Hönggerberg, Irchel, Fluntern, and Winterthur, at the strength and cardio center in Wädenswil, at facilities belonging to the city or the canton, and out of doors.
We are at your service at the ASVZ desks in the Sport Centers Polyterrasse and Winterthur.
Go to the sports facilities pages with opening times and further information ...
All ASVZ Sport Centers have check-in terminals that allow access by scanning the QR code in the ASVZ app.
To check in, you will need to have a portrait photo in your ASVZ profile. The new check-in system includes a visual check, which allows us to prevent unauthorized access and misuse of ASVZ Cards. In this way, we can ensure fairness by allowing access only to ASVZ members. You can add your portrait photo with the convenient upload function in the settings of the ASVZ app. In addition, you have the possibility to do this through the online desk.

You can only access the Sport Center 30 minutes or less before the start of the activity.
How to check in at ASVZ facilities:
1. Open the QR code by clicking on the card icon on the main page of the app.
2. Scan the QR code at the check-in when you enter the Sport Center.
3. If the terminal lights up green, you may access the Sport Center and your booked activity.
4. If the terminal lights up red, please check if your membership and/or registration are valid. If you are not sure, contact 044 632 42 10 or info@asvz.ch. You may only access the Sport Center if you get a green light from the terminal.
Would you rather watch a video on how to check in? Click here to see the how-to video.
Troubleshooting:
If no QR code is displayed in the ASVZ app, log out, close the app, and log back in. If the QR code is still not displayed, reinstall the app.
At asvz.ch and on the ASVZ app for iOS and Android, you will find a clear and compact overview of the latest news and all the information you need on the ASVZ sports program and facilities.
Mobile app
The ASVZ app is your day-to-day tool that gives you a simple and up-to-date overview of all our sports activities. You can use the star button to add classes or courses/camps etc. to your favorites, which creates your personal sport schedule on the app's home page. Signing up for classes online is quick and easy with the app: once you've logged into your profile in the app settings, you can sign up with just one click.

Logging into the ASVZ app has another advantage: if you own a physical ASVZ Card, you no longer have to bring it along, because your digital ASVZ Card on the home page serves as your identification, even offline.
Go to the Apple app store ... | Go to the Google Play store ...
Infomail
Would you like to receive news, useful information and inspiring articles directly in your inbox? About four times a year, we send out an ASVZ infomail with the latest important news relating to the ASVZ. Sign up at asvz.ch/infomail

Social Media
Welcome, likers! On Facebook and Instagram, we share interesting facts about the ASVZ world, live the ASVZ spirit online, and look behind the scenes of the ASVZ. Like us on @asvz.official and facebook.com/asvz.official

We consider sports and the ASVZ to be an opportunity to get to know the local culture and language. For this reason, we generally communicate only in German.
Before you can sign up for activities or events through the website or the ASVZ app, you need to register in advance at schalter.asvz.ch. Only after successful registration can you sign up online for lessons and slots for fitness or other offers such as courses, camps, etc.
Signing up for classes and time slots for fitness training
Check about times and places ahead of time.
Click on the

«

Einschreiben

»

button to register for the desired class.
You will receive a confirmation e-mail containing your registration number. You will also see your registration for the specific class in the ASVZ app. 
If you are unable to attend or cannot attend in time, you need to cancel your registration within the correct notice period for the sport in question.
If you are not present at the start of the lesson, your place will be released and you will no longer be entitled to it.
We also reserve the right to exclude you from the possibility of online registration for a period of eight days. All your online registrations for this period will be automatically deleted.
Background information on the universal online enrollment can be found here.
Signing up for other activities
Decide ahead of time for what you want to sign up and find out about the booking details and required documents on the website or the ASVZ app.
Have the required documents ready before you sign up.
Find out about alternative activities ahead of time, in case your desired activity is fully booked.
The sign-up button is activated at 10 a.m. on the day that booking opens.
In addition to on-site ASVZ activities, we offer several ways for you to stay fit with the ASVZ outside of the sports facilities. Not only do our livestream classes bring the sport to your home, but also the vibe. Even more independently you can train with our «on-demand» sports offers. These are permanently available in our video library in order that you can train when, where and how often you want. In the ASVZ training app, we also provide you with dozens of training exercises with which you can put together your own training plan.
Fair play is very important to us. It goes without saying that all members are expected to treat fellow athletes, instructors, entrance monitors and facility staff respectfully.
You are expected to adhere to the following rules:
Registration for ASVZ sports offers by means of automatism (enrollment bot/script) is prohibited.
The sports facilities can only be accessed upon successful scanning of the QR code on the ASVZ app at the check-in terminal. The same rule applies to everyone: no check-in, no access.
Please arrive for classes on time. And remember: no-show = no-go! Be fair and free up your spot for others as soon as possible if you cannot attend.
Furthermore:
Always use a hand towel. Cover sitting/lying surfaces with a hand towel.

Clean sports clothes must be worn for training, no street clothes, no street shoes.

Leave bags and street clothes in lockers.

Return weights and small equipment to storage after use.

Never drop weights (it is strictly prohibited).

Clean seats/hand grips after use.

Vacate equipment between series.
We reserve the right of exclusion from ASVZ in case of violation of our fair play rules.
You can buy padlocks for the lockers at the ASVZ desk or at the vending machine at the Sport Center Polyterrasse (beside the facility management office) for CHF 10 or you bring your own padlock.
The ASVZ desks offer fairly priced sport items and merchandise, including sport socks, T-shirts and athletic shorts, sport and shower towels, shower gels and water bottles, sports and shoe bags.
If you lose something, ask the facility management whether your item has been handed in.
We want our program and infrastructure to meet our members' needs and expectations as much as possible.
That is why we are very interested in what you think. Send us your comments and suggestions by e-mail at info@asvz.ch or by filling out the contact form.
Impressions